Laptop Carts and Charging Systems to Manage your Mobile Technology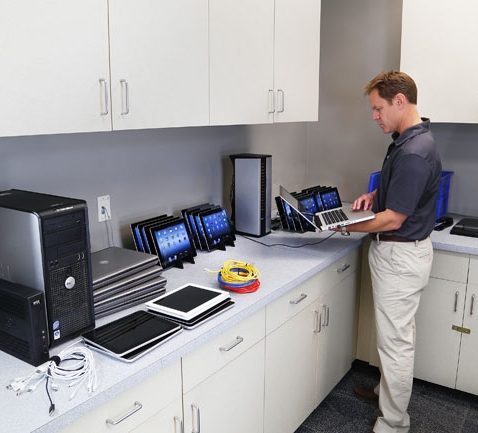 Select from a range of charging systems to meet the needs of your business from carts, wall mounts and desktop solutions, compatible to Chromebook™, Windows® 8, Android ™ Surface, Ultrabook™, Macbook® and iPad® devices.
PowerShuttle® Charging Systems
The universal design of the PowerShuttle®  accommodates up to 30 tablets, Chromebooks, MacBooks and laptops.
The PowerShuttle technology automatically optimises total charge time for up to 30 devices and safely prevents overloading electrical circuits by efficiently grouping the number of devices that are charged at one time.
Additional features and benefits of the PowerShuttle® Charging System includes:
Charging time reduction of approximately 30% over competitive round-robin charging systems.
Robust key and lock assembly keeps devices secure.
Double-hinged, locking steel front doors with recessed handle open 180 to reveal notebook storage shelves.
Rugged steel frame construction, steel front and rear doors, and molded fire-rated ABS exterior withstands heavy use.
Secure back compartment provides IT access to AC adapter storage and power strips.  Clean, neat cable management runs power to units.
Lightweight and compact cart design makes it easy to safely move from room to room.
Tablet Management for iPad® Devices
Features and benefits include:
Charge and sync 10-48 iPad devices at once.
Charge all devices simultaneously with one power cord to the wall socket.
Switch from charge to sync mode by connecting a MacIntosh® computer or PC.
Accommodates most iPad cases.
Small footprint keeps valuable space available.
Ventilated, enclosed storage keeps tablets safe and secure.
Laptop Locker Accessory
An easy addition to Tablet Management Carts and Desktop products to provide safe, secure storage for a laptop or other small accessories. Easy installation in place of existing top cover for a built-in solution and includes a six point locking bracket.
Explore all the ways to charge, sync and/or secure multiple mobile devices.