Movement in the Classroom
From the moment we are born we are designed to be active, that is how we learn, grow and develop.
Over the past 3 decades, childhood obesity rates in Australia have increased and 1 in 4 children are now considered overweight or obese.
The older we get, the less we move and the more sedentary we become. From Pre-School and Kindy to High School and University and eventually for most of us work, every phase of life appears to be designed to reduce our activity levels. Statistics show that in every age group there is an increase in the number of people who are overweight or obese.
Bad habits developed over a lifetime are hard to break whereas creating health conscious habits at an early age is easy.
Introducing low-level physical activity into the classroom has a positive impact on student health, classroom engagement and academic performance.
Health Benefits of Incidental Movement in the Classroom
Standing more during the day increases circulation, burns more calories and helps maintain muscle tone. Mayo Clinic estimates that a child standing will burn 15 calories an hour more than when sitting. Over the course of a school year, that is approximately 18,000 calories.
Classroom Performance – Greater Student focus and engagement is achieved with introduction of stand-biased desks.
Academic Performance – A positive correlation is shown between physical activity and test scores.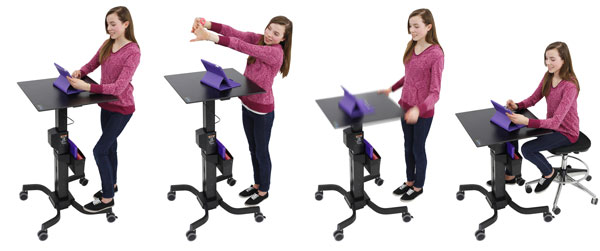 Case Studies of Adjustable Desks in Classrooms
Mont Albert Primary School in Victoria and Sacred Heart Primary School in Perth have both been involved in recent studies to test the effectiveness of adjustable desks in the classrooms.
Product Range for Classrooms
Ergotrons rage of adjustable desks and workstations in the classroom are supported by a range of charging systems and AV Mounts.
Charging carts & storage cabinets sync, charge and store iPad, Chromebooks, laptops and tablets while providing secure access to devices.
Classroom carts provide flexible mobile solutions for delivering presentations and informational content anywhere in the school. Essential teaching tools can be consolidated on a single platform with height adjustments being able to be made easily to suit the needs of the teacher.
Schools rely on useful technologies to meet the demands of teachers and students.
Ergotron's broad portfolio of products can be an essential part of this new learning environment, supporting the technology platform while promoting a healthier, active classroom.