Medical Carts and Healthcare Solutions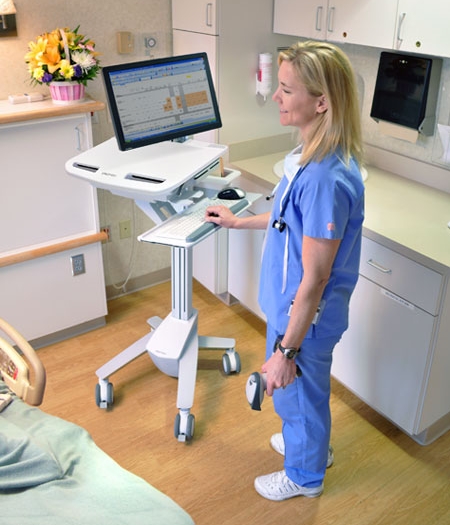 The innovative range of products for the healthcare industry have been created with the driving focus to enhance personal interaction, expand the reach of care and improve operational efficiency.
With the sheer number of people attending healthcare facilities, it is little wonder that the major challenges faced by healthcare organisations around the world today are:
Legislative Compliance due to increase in Government regulations;
Tracking of assets and consumables;
Infection control and sterilisation compliance;
Medical errors and Iatrogenic Injury;
Productivity

Click here to download our Healthcare Solutions (1 MB) Brochure.
Click here to download Ergotron Styleview Brochure
StyleView® Point of Care Medical Carts
The range of StyleView® carts are certified to the Australian and New Zealand IEC60601-1 standard and are proven to last several years in a typical healthcare setting.
Attractive, lightweight and ergonomic the carts meet the individual needs of the caregiver while supporting the application specific needs of point of care.
Carts and Workstations can be tailored to meet the needs of the team and environment with extensive flexibility and accessories.
Features and benefits of StyleView® Medical Carts
Designed for nurses and personalized to enhance workflow and caregiving
Unsurpassed ergonomics whether sitting, standing or maneuvering
Carts evolve as your needs change – accessories are available to improve productivity
Carts and power systems fully certified to IEC60601-1 standard
Multiple choices for mounting displays: LCD arms and pivots, secure laptop, single and dual monitor displays
StyleView® Telepresence Carts
Open architecture – easy to use and affordable to implement
Combines the added impact of videoconferencing with the benefits of a StyleView Point-of-Care Cart
Features and benefits of Point-of-Care Wall Mount Products
Enhances personal interaction between caregivers, their patients and patient data
Ergonomic designs and added features provide ease of motion and proper positioning for optimal workplace comfort
Choose from a wide range of wall mount products to meet various user, budgetary and space requirements
Promotes a healthier way to work with ergonomic comfort and sit stand mobility
Choose from desks, mobile workstations, wall mount and desk mounts
Additional accessories also available to improve productivity and comfort
Charge, sync and/or secure multiple mobile devices
Available as carts, wall mounts or desktop stations
Choose from universal, open architecture designs or products or products designed exclusively for Apple®
Certified for safety
Lightweight and agile designs