Setup a Dual Monitor and Increase Efficiency & Productivity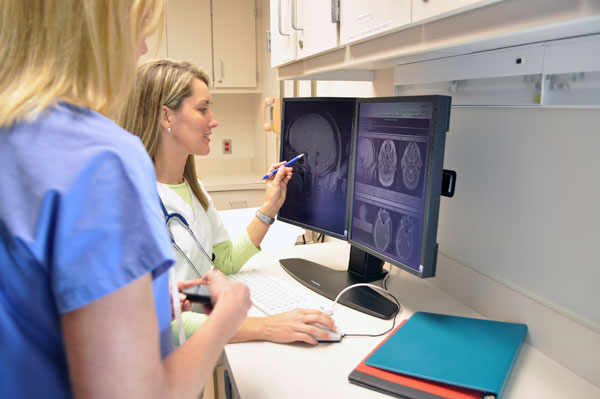 Today many workers use multiple programs at the same time, from spreadsheets and word documents to email, browsers and various other software.
Having a dual or multi monitor setup provides more screen space allowing the user to quickly check information, alterations, copy and paste easily and efficiently without having to constantly toggle back and forth between documents and programs.
Research results prove that dual-monitor configurations save time and increase accuracy among workers.
Microsoft conducted research on the effectiveness of adding a second or third monitor to a workstation and found that productivity increased by 9 to 50 percent.
Research by the University of Utah (commissioned by NEC) compared performance and preferences of users when editing text and spreadsheets.
A key finding of the study was that using a larger monitor or dual monitors helped users complete tasks as much as 52 percent faster, saving up to 2.5 hours a day.
Productivity gains on frequently repeated operations can result in a significant return on investment over time.
The ability to simultaneously lift LCD screens to the proper height is an added benefit to ergonomic comfort.
Dual and Multi Monitor Stands
Setting up dual monitors is easy and once it is done you will be hard pressed to be happy going back to using one screen.
If you are setting up dual monitors for Windows or Mac OS you will need two video out connections on the back of your computer, one for each monitor.
If you are connecting more than two monitors your computer will require additional video outputs.
Key benefits and features of monitor lift stands:
Position LCD screens for maximum ergonomic comfort – promotes wellness in the work area
Small footprint frees up your workspace and increases your efficiency
Integrated base rollers enable 360° rotation of the stand so you can share your screen view with others
Features Ergotron's patented Constant Force™ technology that enables light touch adjustments without levers or knobs
13 cm height adjustment ergonomically accommodates average range of users
Easy to use – simple installation and effortless operation
Everything is included to neatly route cables behind the stand and out of the way
The range of monitor lift stands by Ergotron means that not only will you have improvement in productivity and efficiency but also in ergonomic comfort and support.