Medical Carts on Wheels – Designed for nurses and personalised to enhance workflow and caregiving.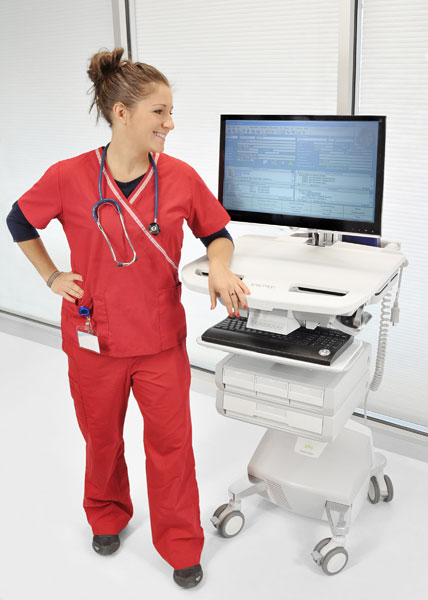 Since the 1980's Ergotron has been the leader in managing the human interaction between patient care and technology.
As the healthcare systems transforms into the digital age health care professionals need to be able to transition between providing point of contact care and complying with electronic health care requirements.
Health Care Professionals need to be able to move quickly and efficiently and point of care carts  are an essential component to providing professional, efficient care to patients.
The integration of ergonomics into the medical carts to meet the needs of caregivers is an essential element to the design and functionality of the Ergotron product range.
The right cart or wall mount should adjust to the personal ergonomic zone. Since caregivers are constantly on the move, when they do slow down for extended data-entry work it's important their specific stature is accommodated.
Comfortable, healthier and more productive computing begins with attention to each person's physical needs.
Work related injuries to Nurses and Healthcare Professionals
Nurses and Health Care Professionals work long hours and are constantly on the move. In a study undertaken by Ergotron 60 percent of nurses worry that their job is negatively impacting on their overall health.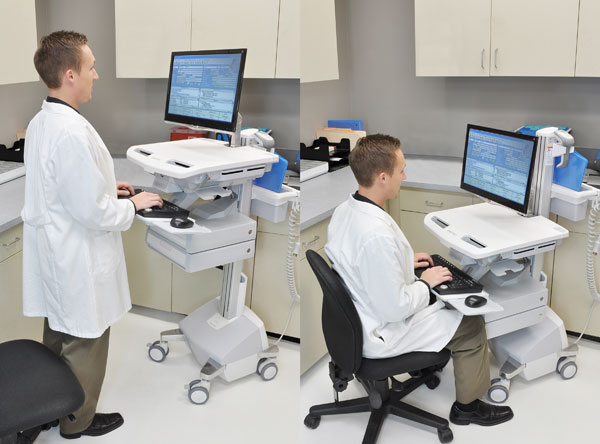 The US Bureau of Labor Statistics reports that:
Nurses are 48% more likely to have wrist, back and/or ankle sprains or strains on the job, compared to all other occupations
Nurses are 60% more likely to report chronic soreness and pain, especially in the feet and lower back
53% of all injuries while nursing were reported to be due to over exertion
While statistics on work related injuries for Nurses in Australia are not easily ascertainable it would seem logical that similar issues are faced by nurses in Australia.
What makes the Ergotron Medical Carts stand apart from the rest?
Minimum 51 cm of keyboard height adjustment, with independent LCD tilt, pan and height adjustment, covers the majority of caregivers for seated or stand use, roughly 152 to 185 cm tall
Single-motion fluid sit to stand adjustment is crucial; it frees caregivers from having to take time to adjust multiple components in order to reach their personal zone
Keyboard tray that tilts back keeps wrists in neutral position, even when seated
Minimum push/pull and adjustment forces required to move cart or components
Intuitive, ample storage spaces/cable management; access to user interfaces
Front and back handles for moving the medical carts
Adjustable mounts for caregivers with bifocals
Promotional Medical and Point of Care Carts for Healthcare
Hospitals, clinics and other medical facilities can qualify for a complimentary trial unit.
> Contact an Datanet Consultant for more information about program requirements and details.