Stephen selects the Ergotron WorkFit-D as the Best Full Size Standing Desk
Client: Stephen Walters
Product Selected: Ergotron WorkFit-D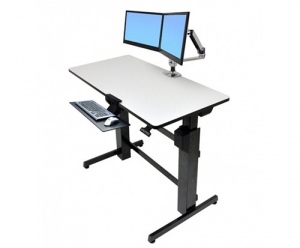 Business: Exsurgo and Stephen Walters Massage Therapist
Why did you decide to change to a standing desk?
I have been using a standing desk at Adelaide University while I have been doing my Masters in Clinical Science and knew that I felt better and was more productive when I stood rather than sat all day.
I knew the value of being able to move between standing and sitting but hadn't found the right solution.
What made you select the WorkFit-D
The price point was excellent and I really wanted a full-desk solution. I also don't have a lot of floor space in the treatment room and the Ergotron WorkFit-D standing desk was the perfect size.
In my business Exsurgo we see many people who do all the right things, exercise, nutrition, recovery but then have to go into an office and sit all day.
As a sports and remedial massage therapist with over 30 years' experience I know that sitting all day affects our posture as it causes mis-alignment in muscle length and strength. This then affects our sporting performance and can contribute to injury and muscle fatigue.
As well as being a massage therapist, business owner and academic I train up to five times a week and it is essential that I am in a peak state both physically and mentally to provide an excellent service to my clients.
What do you like best about the WorkFit-D?
The ease of movement – it's really quick and easy to move the desk into an optimal position.
Exsurgo has a team of health and sports professionals dedicated to athlete recovery to enhance performance. Exsurgo specializes in the development of personalized comprehensive strategies to recover from competition, training fatigue, injury and pain. Using a combination of massage, nutrition, biometrics, naturopathy, psychology and orthopedics any athlete from professional through to weekend warrior will rapidly bounce back to full function.
http://www.stephenwalters.com.au/