Stay Active while you work with Ergonomic Office Solutions that support your Workflow requirements
Refreshed and relaxed is how many of us feel returning to work after the annual Christmas and New Year Holiday period.
While there may have been a little too much Christmas Pudding the average office professional will have been more active during the holidays than when at work.
Whether it is playing with the kids, doing more household chores or going for a daily walk the holiday season basically sees us moving more.
The feeling of vitality and good health can be quickly forgotten as we settle in to our chairs for the first day of work.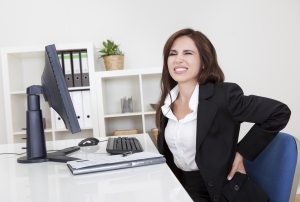 Sitting all day just isn't natural and it's not long before general stiffness and pain sets in again.
Aches and pains can be reduced significantly by ensuring that your workstation is set-up to support the correct ergonomic posture. Smart eHealth Training offer an excellent, independent, cost effective online training course to guide you through setting up your office workstation correctly.
According to Business Insider Australia it's not just the aches and pains that are the problem, sitting for too long can lead to an early death and increases your risk of muscular skeletal disorders, obesity, diabetes, cancer, heart disease and more, even if you work out regularly.
Take the time as we start the New Year to set the foundation for a healthy and productive year.